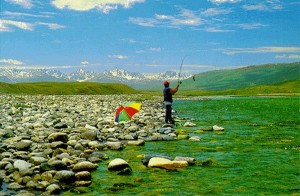 People fish because they love the great outdoors, and wherever they find outstanding fishing places, they tend to find a fishing Paradise. Fishing in Pakistan is an important aspect of the adventures in Pakistan that's why it's considered as fishing Paradise. Pakistan attracts tourists and anglers from all over the world. Most of the fishing destinations in Pakistan are set besides streams and rivers which are also the storehouse of beautiful scenery.
There are a number of destinations that offer perfect spots for fishing in Pakistan. The streams in northern mountain offer fantastic opportunity for fishing in Pakistan. Kaghan , Swat, Baltistan and Ghizer are also the important places which offers best opportunity for fishing. Kargah Nullah, 10 kilometers from Gilgit is wonderful destination to enjoy fishing. Other wonderful places for fishing include Singal, 56 kilometers from Gilgit, Phandar, and Singal. Kunhar River offers the best of trout and mahaseer in the subcontinent. This area is most popular for its rainbow and brown trout fish considered to be the best in South Asia. Lake Saif-ul-Muluk, located near Kaghan valley, offers a lovely spot for fishing.
Another important place is Chashma barrage considered to be heaven on earth for fishing. Chashma barrage is very famous for fresh water game fishing. It also offers best spot for Carp fishing almost all type of Carps, Snake Head, Wallago (Malli) found in it. River Indus in NWFP is the longest and most important river in Pakistan and one of the most important rivers on the Indian subcontinent, it offers vast variety of Fish species including, Mahseer, Rahu, China Carp, Swati, Torki, Pooha, Mali and Khaga. Lahore is the capital of the province of Punjab, and the second most populated city in Pakistan has some important fishing palces, the center of fishing activities used to be around River Ravi, Head Maralla, Siphon and Nallah Deg, both located very close to Lahore.
Bajaur is located in the Federally Administered Tribal Areas Area of the Country of Pakistan. It is one of the best fishing or outdoors adventure locations in the regions of Asia/Pacific because this fishing site also provides users the ability to easily track fishing catches and experiences.
There are countless fishing places in Pakistan which offers best opportunity to the anglers for fish gaming. Pakistan is a remarkable country for fishing that is why it's called Fishing Paradise.