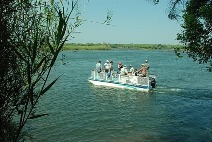 Punjab "The Land of five Rivers" is the most populous, developed and prosperous province of Pakistan. The land that is rich with Greenfields and many historical buildings. Five Rivers run through the heart of Punjab and those are the Sindh, Chenab, Jhelum, Ravi and Sutlej. That is why the province is named Punjab; Famous fish found in Punjab are Mirgals, Sawls, Rahu, Baam, Mahasher and Mrigal. Punjab is very favorable for Angling because it is located on River banks hence making it the most ideal place for hunting; many anglers all over Pakistan come here to enjoy hunting and recreation.
Pakistan is known as the fish paradise, many fishing spots are here where people come for hunting. Balloki Head is one of the famous spot to fish.  It is located around 65 km from Lahore, at River Ravi near the town of Bhai Pheru on Multan Road. This is one of the best fishing and hunting outdoors adventure locations in the regions of Asia/Pacific.  Another hunting spot named as Head Marala is also a very good place for a fishing trip. The Marala headworks is situated at the Chenab River near the city of Sialkot, Punjab, Pakistan. Marala headworks are one of the best fishing or outdoors adventure locations in the Punjab Pakistan. Head Marala is also a picnic and angling spot, wildlife sanctuary and unprotected wetland. Many people come here and enjoy the landscape, natural beauty and angling experience as well.  One other fishing spot is Mangla dam. Mangla Dam is a beautiful place located near Dina on G.T. Road, between Lahore and Islamabad. Mangla, the largest water reservoir in Kashmir, occupies some 27,000 hectares in area, producing over 1,000 metric tons of fish per year and supporting the livelihoods of some 15,000 full-time fishermen and 2,000 casual anglers. Mahasher and Rohu are amongst the most found species at the Dam. The important species of fish found in Mangla reservoir are Rohu, Mori Thaila, Mahsher, Mullee, Singhara, Common carp, Silver Carp and Grass Carp.
The hunting experience in Punjab is not comparable elsewhere on earth,  These fishing spots are well known in the world for their beauty and fish verities, giving one the complete package of live time recreation and fun.